A more recent version of genomicus is available here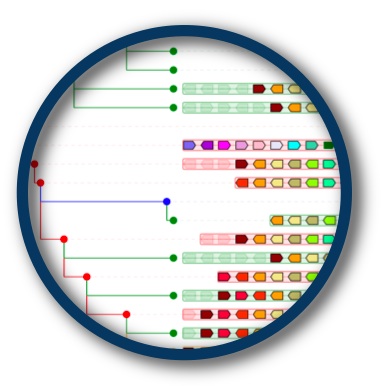 web-code version: 2009-07-20
database version: 55.01
See site history
Go to archives
Contact us.

Examples : MATN2, ALX1, HRC, ENSG00000149554, ENSMMUG00000022102

This browser allows you to navigate in genomes in several dimensions: linearly along chromosome axes, transversaly across different species, and chronologicaly along evolutionary time. There are two basic steps:
Enter a gene name in a given species
Select the oldest ancestor of your phylogenetic range of interest
The graphical display then enables you to see at once your gene query in its genomic context and what this genomic context looks like for its ortholog (and paralogs) in all the other sequenced metazoan genomes. Moreover, it allows you to examine the predicted ancestral genome structure in all the ancestral species within the phylogenetic range of interest. All the data on extant species displayed in this browser depend on Ensembl

, Genoscope and JGI (see history).


What's new in version 55.01?
Update to Ensembl release 55
Previous versions of genomicus available online