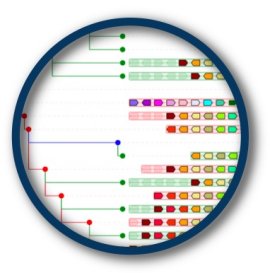 DYOGEN group
web-code version: 2021-08-15
database version: 110.01

Contact us.
Examples in Genomicus
Here are examples of queries in Genomicus that illustrate key features of the browser and highlight the benefits of examining comparative genomic data in a broad phylogenetic perspective.
Fgf1a in the zebrafish genome on chromosome 14 — PhyloView, rooted at the Neopterygii ancestor

The red square node shows that a duplication of the ancestral Fgf1a gene took place in the ancestral Osteoglossocephalai genome. The zebrafish paralog of Fgf1a is on chromosome 21 (Fgf1b), but the display shows that all other fish also contain two copies, Fgf1a and Fgf1b. Most strikingly, many gene that are neighbours of Fgf1a also have paralogs in the neighborhood of its paralog Fgf1b, and this is true in all sequenced fish genomes. One can therefore conclude that this situation is reminiscent of a large segmental duplication - or in this case - of the whole genome duplication that took place in the ancestor of ray-finned fish (so- called «3R» duplication). Interestingly, Fgf1 in tetrapodes is also surrounded by many genes that are still in the vicinity of the zebrafish Fgf1a and Fgf1b gene.


Phox2b PhyloView, rooted at the Euteleostomi ancestor

One notices that this region is remarkably well conserved in the descendents of the ancestral amniota, and that Phox2b is surrounded by a high density of conserved non coding elements (CNEs) .