A more recent version of genomicus is available here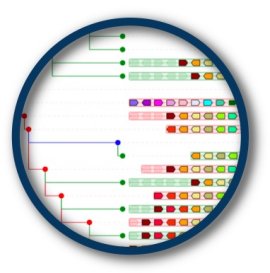 DYOGEN group
web-code version: 2014-05-27
database version: 75.02

Contact us.
Statistics on modern & ancestral genomes
Genomicus 75.02 contains 1203726 genes from 66 extant species. This data was analysed with a new method called AGORA (Algorithm for Gene Order Reconstruction in Ancestors; Muffato et al. in preparation) to identify 1042200 ancestral genes from 55 ancestral species, grouped into 32297 blocks of collinear genes.
The following tables present statistics on the data used in Genomicus, and on the reconstructed blocks in the ancestral species.
For extant species, a "contig" means a segment of the genome sequence assembly (chromosomes, scaffolds, contig) with at least two genes.
The average block length, the N25, N50 and N75 values do not take into account the singletons (blocks of one gene).
Primates
Age
Genes
Contigs
Average size
(nb genes)
N50 size
(nb genes)
Genes not
in contigs
Coverage
(%)
Human
(extant sp.)
22625
175
129.0
912
46
99.8%
Gorilla
(extant sp.)
20962
27
776.4
1016
0
100.0%
Orangutan
(extant sp.)
20424
53
385.4
843
0
100.0%
Rhesus
(extant sp.)
21905
90
236.1
1120
660
97.0%
Gibbon
(extant sp.)
18575
394
46.5
126
268
98.6%
Tarsier
(extant sp.)
13628
1540
2.3
2
10150
25.5%
Mouse lemur
(extant sp.)
16319
3002
4.1
5
3927
75.9%
Chimpanzee
(extant sp.)
18759
61
304.4
803
192
99.0%
Bushbaby
(extant sp.)
19506
374
51.8
115
151
99.2%
Marmoset
(extant sp.)
20978
123
166.1
1061
543
97.4%
Rodents etc.
Age
Genes
Contigs
Average size
(nb genes)
N50 size
(nb genes)
Genes not
in contigs
Coverage
(%)
Mouse
(extant sp.)
22708
49
463.3
1161
5
100.0%
Rat
(extant sp.)
22940
25
915.8
1306
44
99.8%
Kangaroo rat
(extant sp.)
15798
3124
2.9
3
6716
57.5%
Rabbit
(extant sp.)
19293
581
32.4
678
472
97.6%
Tree shrew
(extant sp.)
15471
3162
3.3
4
5087
67.1%
Guinea pig
(extant sp.)
18673
276
67.3
215
97
99.5%
Squirrel
(extant sp.)
18826
516
36.0
87
249
98.7%
Pika
(extant sp.)
16006
3010
3.9
4
4397
72.5%
Laurasiatherias
Age
Genes
Contigs
Average size
(nb genes)
N50 size
(nb genes)
Genes not
in contigs
Coverage
(%)
Hedgehog
(extant sp.)
14601
2105
2.4
2
9606
34.2%
Microbat
(extant sp.)
19728
1249
14.9
39
1169
94.1%
Pig
(extant sp.)
21605
461
44.9
1224
906
95.8%
Horse
(extant sp.)
20449
60
340.1
750
46
99.8%
Cat
(extant sp.)
19493
42
459.8
1091
183
99.1%
Sheep
(extant sp.)
20921
117
174.0
870
564
97.3%
Dog
(extant sp.)
19856
81
243.3
606
152
99.2%
Cow
(extant sp.)
19994
32
624.5
779
11
99.9%
Dolphin
(extant sp.)
16550
3179
4.4
5
2472
85.1%
Alpaca
(extant sp.)
11765
2006
4.4
5
2999
74.5%
Giant Panda
(extant sp.)
19343
1819
10.2
18
799
95.9%
Ferret
(extant sp.)
19910
503
39.0
96
276
98.6%
Megabat
(extant sp.)
16990
3187
4.3
5
3198
81.2%
Common shrew
(extant sp.)
13187
1965
2.7
3
7946
39.7%
Xenarthras etc.
Age
Genes
Contigs
Average size
(nb genes)
N50 size
(nb genes)
Genes not
in contigs
Coverage
(%)
Sloth
(extant sp.)
12393
1181
2.2
2
9778
21.1%
Armadillo
(extant sp.)
22711
2554
8.3
13
1448
93.6%
Afrotherias etc.
Age
Genes
Contigs
Average size
(nb genes)
N50 size
(nb genes)
Genes not
in contigs
Coverage
(%)
Hyrax
(extant sp.)
16057
2834
2.9
3
7783
51.5%
Elephant
(extant sp.)
20033
355
55.8
230
228
98.9%
Tenrec
(extant sp.)
16575
2559
2.6
2
10047
39.4%
Marsupials & Monotremes
Age
Genes
Contigs
Average size
(nb genes)
N50 size
(nb genes)
Genes not
in contigs
Coverage
(%)
Opossum
(extant sp.)
21327
11
1938.8
2870
0
100.0%
Platypus
(extant sp.)
21698
1855
6.8
22
9138
57.9%
Tasmanian harrisii
(extant sp.)
18788
1966
8.7
15
1654
91.2%
Wallaby
(extant sp.)
15290
1720
2.4
2
11119
27.3%
Birds & Reptiles
Age
Genes
Contigs
Average size
(nb genes)
N50 size
(nb genes)
Genes not
in contigs
Coverage
(%)
Turkey
(extant sp.)
14125
140
97.2
505
512
96.4%
Duck
(extant sp.)
15634
1381
10.5
17
1135
92.7%
Lizard
(extant sp.)
18596
1055
16.3
869
1370
92.6%
Chinese turtle
(extant sp.)
18189
1467
11.9
23
726
96.0%
Chicken
(extant sp.)
15508
133
111.5
521
676
95.6%
Zebra finch
(extant sp.)
17488
68
257.2
712
1
100.0%
Flycatcher
(extant sp.)
15303
491
30.5
92
334
97.8%
Amphibians
Age
Genes
Contigs
Average size
(nb genes)
N50 size
(nb genes)
Genes not
in contigs
Coverage
(%)
Frog
(extant sp.)
18442
1339
13.1
23
902
95.1%
Fish
Age
Genes
Contigs
Average size
(nb genes)
N50 size
(nb genes)
Genes not
in contigs
Coverage
(%)
Spotted gar
(extant sp.)
18341
186
96.8
773
332
98.2%
Fugu
(extant sp.)
18523
853
20.5
52
1077
94.2%
Atlantic cod
(extant sp.)
20095
2716
6.4
10
2663
86.7%
Tetraodon
(extant sp.)
19602
27
726.0
767
0
100.0%
Medaka
(extant sp.)
19699
331
57.8
741
556
97.2%
Tilapia
(extant sp.)
21437
613
34.2
88
468
97.8%
Cave fish
(extant sp.)
23042
1367
15.9
37
1277
94.5%
Platyfish
(extant sp.)
20379
1244
15.4
44
1218
94.0%
Stickleback
(extant sp.)
20787
261
78.5
869
299
98.6%
Zebrafish
(extant sp.)
26448
178
147.0
1023
280
98.9%
Other chordates
Age
Genes
Contigs
Average size
(nb genes)
N50 size
(nb genes)
Genes not
in contigs
Coverage
(%)
Ciona savignyi
(extant sp.)
11616
285
40.6
143
59
99.5%
Lamprey
(extant sp.)
10415
1844
3.6
4
3826
63.3%
Coelacanth
(extant sp.)
19569
2510
7.2
11
1464
92.5%
Ciona intestinalis
(extant sp.)
16658
483
34.0
816
249
98.5%
Other eukaryotes
Age
Genes
Contigs
Average size
(nb genes)
N50 size
(nb genes)
Genes not
in contigs
Coverage
(%)
Yeast
(extant sp.)
6692
17
393.6
513
0
100.0%
Caenorhabditis elegans
(extant sp.)
20541
7
2934.4
3362
0
100.0%
Fruitfly
(extant sp.)
13937
14
995.5
2735
0
100.0%
Ancestors in Primates
Age
Genes
Blocks
Average size
(nb genes)
N50 size
(nb genes)
Genes not
in blocks
Coverage
(%)
Homo/Pan/Gorilla group
~9 My
21888
141
140.4
624
2090
90.5%
Primates
~83 My
21652
127
148.9
649
2736
87.4%
Haplorrhini
~57 My
21164
156
119.8
568
2472
88.3%
Simiiformes
~45 My
21957
140
136.0
604
2922
86.7%
Catarrhini
~31 My
22372
129
150.1
792
3015
86.5%
Hominidae
~16 My
22373
147
134.8
753
2560
88.6%
Homo/Pan group
~5 My
20275
87
221.2
734
1028
94.9%
Hominoidea
~25 My
21905
132
147.9
671
2377
89.1%
Strepsirrhini
~69 My
19149
444
39.8
97
1462
92.4%
Ancestors in Rodents etc.
Age
Genes
Blocks
Average size
(nb genes)
N50 size
(nb genes)
Genes not
in blocks
Coverage
(%)
Rodentia
~80 My
20107
151
122.1
485
1671
91.7%
Sciurognathi
~79 My
19922
185
99.4
441
1539
92.3%
Murinae
~37 My
20051
199
94.3
464
1282
93.6%
Glires
~81 My
20672
137
136.0
662
2044
90.1%
Lagomorpha
~48 My
18350
712
23.4
131
1698
90.7%
Ancestors in Laurasiatherias
Age
Genes
Blocks
Average size
(nb genes)
N50 size
(nb genes)
Genes not
in blocks
Coverage
(%)
Insectivora
~68 My
15807
2620
2.7
3
8765
44.5%
Bovidae
~30 My
20231
164
114.1
507
1514
92.5%
Carnivora
~56 My
20532
117
159.9
626
1826
91.1%
Caniformia
~44 My
20175
132
140.3
589
1655
91.8%
Chiroptera
~60 My
18566
1140
14.8
36
1689
90.9%
Caniformia_b
~44 My
19608
391
46.7
118
1364
93.0%
Cetartiodactyla
~61 My
21085
201
93.5
400
2297
89.1%
Laurasiatheria
~88 My
22763
122
157.9
963
3503
84.6%
Ancestors in mammals
Age
Genes
Blocks
Average size
(nb genes)
N50 size
(nb genes)
Genes not
in blocks
Coverage
(%)
Boreoeutheria
~95 My
23470
141
136.5
951
4225
82.0%
Euarchontoglires
~90 My
22613
115
166.5
843
3467
84.7%
Diprotodontia
~65 My
18419
1797
8.3
14
3463
81.2%
Theria
~166 My
20697
334
51.4
332
3541
82.9%
Marsupialia
~148 My
19482
540
31.4
118
2504
87.1%
Eutheria
~102 My
23002
222
84.1
611
4323
81.2%
Mammalia
~184 My
20083
647
24.9
105
3945
80.4%
Xenarthra
~64 My
18972
2067
7.7
12
3106
83.6%
Atlantogenata
~100 My
20925
348
52.8
200
2536
87.9%
Afrotheria
~94 My
19534
410
42.9
126
1961
90.0%
Ancestors in fish
Age
Genes
Blocks
Average size
(nb genes)
N50 size
(nb genes)
Genes not
in blocks
Coverage
(%)
Smegmamorpha
~170 My
21723
377
51.6
588
2267
89.6%
Tetraodontidae
~65 My
19134
647
26.2
238
2184
88.6%
Percomorpha
~160 My
22774
369
53.1
619
3164
86.1%
Atherinomorpha
~100 My
20715
531
35.0
308
2121
89.8%
Holacanthopterygii
~200 My
22237
1602
11.5
27
3736
83.2%
Clupeocephala
~320 My
23071
2071
8.9
17
4670
79.8%
Otophysi
~150 My
22731
1737
11.2
22
3293
85.5%
Ancestors in vertebrates
Age
Genes
Blocks
Average size
(nb genes)
N50 size
(nb genes)
Genes not
in blocks
Coverage
(%)
Euteleostomi
~420 My
19645
2290
6.0
9
5858
70.2%
Sarcopterygii
~400 My
19445
1517
10.0
20
4347
77.6%
Passeriformes
~45 My
15430
227
61.6
310
1439
90.7%
Neopterygii
~330 My
19719
1442
10.7
23
4300
78.2%
Testudines+Archosauriagroup
~250 My
17495
398
38.5
274
2170
87.6%
Galliformes
~45 My
14957
160
87.0
358
1034
93.1%
Sauria
~267 My
18410
458
34.7
308
2514
86.3%
Neognathae
~105 My
16610
209
70.2
417
1946
88.3%
Amniota
~326 My
20048
448
36.1
266
3883
80.6%
Tetrapoda
~359 My
19300
1000
15.3
41
3955
79.5%
Other ancestors
Age
Genes
Blocks
Average size
(nb genes)
N50 size
(nb genes)
Genes not
in blocks
Coverage
(%)
Fungi/Metazoa group
~1500 My
2190
18
2.1
2
2153
1.7%
Craniata
~550 My
13216
547
2.2
2
11995
9.2%
Ciona
~100 My
10743
1546
3.4
4
5439
49.4%
Olfactores
~550 My
9783
172
2.1
2
9417
3.7%
Bilateria
~580 My
7662
72
2.1
2
7512
2.0%
Ecdysozoa
~580 My
7361
64
2.1
2
7225
1.8%