A more recent version of genomicus is available here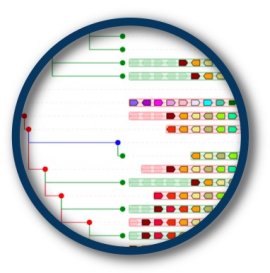 DYOGEN group
web-code version: 2014-09-19
database version: 89.01

Contact us.
Statistics on modern & ancestral genomes
Genomicus 89.01 contains 1286709 genes from 70 extant species. This data was analysed with a new method called AGORA (Algorithm for Gene Order Reconstruction in Ancestors; Muffato et al. in preparation) to identify 1154508 ancestral genes from 60 ancestral species, grouped into 33680 blocks of collinear genes.
The following tables present statistics on the data used in Genomicus, and on the reconstructed blocks in the ancestral species.
For extant species, a "contig" means a segment of the genome sequence assembly (chromosomes, scaffolds, contig) with at least two genes.
The average block length, the N25, N50 and N75 values do not take into account the singletons (blocks of one gene).
Primates
Age
Genes
Contigs
Average size
(nb genes)
N50 size
(nb genes)
Genes not
in contigs
Coverage
(%)
Human
(extant sp.)
22130
245
90.0
895
70
99.7%
Olive baboon
(extant sp.)
19210
109
173.8
1012
262
98.6%
Orangutan
(extant sp.)
20424
53
385.4
843
0
100.0%
Rhesus
(extant sp.)
21099
58
356.9
1118
400
98.1%
Gorilla
(extant sp.)
20962
27
776.4
1016
0
100.0%
Gibbon
(extant sp.)
18575
394
46.5
126
268
98.6%
Tarsier
(extant sp.)
13628
1540
2.3
2
10150
25.5%
Mouse lemur
(extant sp.)
18103
894
20.0
43
232
98.7%
Vervet Monkey
(extant sp.)
19165
54
353.7
696
65
99.7%
Bushbaby
(extant sp.)
19506
374
51.8
115
151
99.2%
Marmoset
(extant sp.)
20978
123
166.1
1061
543
97.4%
Chimpanzee
(extant sp.)
18759
61
304.4
803
192
99.0%
Rodents etc.
Age
Genes
Contigs
Average size
(nb genes)
N50 size
(nb genes)
Genes not
in contigs
Coverage
(%)
spretus
(extant sp.)
19907
20
995.4
1065
0
100.0%
Mouse
(extant sp.)
22146
68
325.5
1108
9
100.0%
Rat
(extant sp.)
22245
55
403.0
1311
78
99.6%
Kangaroo rat
(extant sp.)
15798
3124
2.9
3
6716
57.5%
Rabbit
(extant sp.)
19293
581
32.4
678
472
97.6%
Tree shrew
(extant sp.)
15471
3162
3.3
4
5087
67.1%
Guinea pig
(extant sp.)
18673
276
67.3
215
97
99.5%
Squirrel
(extant sp.)
18826
516
36.0
87
249
98.7%
Pika
(extant sp.)
16006
3010
3.9
4
4397
72.5%
Laurasiatherias
Age
Genes
Contigs
Average size
(nb genes)
N50 size
(nb genes)
Genes not
in contigs
Coverage
(%)
Hedgehog
(extant sp.)
14601
2105
2.4
2
9606
34.2%
Microbat
(extant sp.)
19728
1249
14.9
39
1169
94.1%
Pig
(extant sp.)
21605
461
44.9
1224
906
95.8%
Horse
(extant sp.)
20449
60
340.1
750
46
99.8%
Cat
(extant sp.)
19493
42
459.8
1091
183
99.1%
Sheep
(extant sp.)
20921
117
174.0
870
564
97.3%
Dog
(extant sp.)
19856
81
243.3
606
152
99.2%
Cow
(extant sp.)
19994
32
624.5
779
11
99.9%
Dolphin
(extant sp.)
16550
3179
4.4
5
2472
85.1%
Alpaca
(extant sp.)
11765
2006
4.4
5
2999
74.5%
Giant Panda
(extant sp.)
19343
1819
10.2
18
799
95.9%
Ferret
(extant sp.)
19910
503
39.0
96
276
98.6%
Megabat
(extant sp.)
16990
3187
4.3
5
3198
81.2%
Common shrew
(extant sp.)
13187
1965
2.7
3
7946
39.7%
Xenarthras etc.
Age
Genes
Contigs
Average size
(nb genes)
N50 size
(nb genes)
Genes not
in contigs
Coverage
(%)
Sloth
(extant sp.)
12393
1181
2.2
2
9778
21.1%
Armadillo
(extant sp.)
22711
2554
8.3
13
1448
93.6%
Afrotherias etc.
Age
Genes
Contigs
Average size
(nb genes)
N50 size
(nb genes)
Genes not
in contigs
Coverage
(%)
Hyrax
(extant sp.)
16057
2834
2.9
3
7783
51.5%
Elephant
(extant sp.)
20033
355
55.8
230
228
98.9%
Tenrec
(extant sp.)
16575
2559
2.6
2
10047
39.4%
Marsupials & Monotremes
Age
Genes
Contigs
Average size
(nb genes)
N50 size
(nb genes)
Genes not
in contigs
Coverage
(%)
Opossum
(extant sp.)
21327
11
1938.8
2870
0
100.0%
Platypus
(extant sp.)
21698
1855
6.8
22
9138
57.9%
Wallaby
(extant sp.)
15290
1720
2.4
2
11119
27.3%
Tasmanian harrisii
(extant sp.)
18788
1966
8.7
15
1654
91.2%
Birds & Reptiles
Age
Genes
Contigs
Average size
(nb genes)
N50 size
(nb genes)
Genes not
in contigs
Coverage
(%)
Turkey
(extant sp.)
14123
140
97.2
505
510
96.4%
Duck
(extant sp.)
15634
1381
10.5
17
1135
92.7%
Lizard
(extant sp.)
18595
1055
16.3
868
1370
92.6%
Chinese turtle
(extant sp.)
18189
1467
11.9
23
726
96.0%
Chicken
(extant sp.)
18346
510
33.3
517
1387
92.4%
Zebra finch
(extant sp.)
17488
68
257.2
712
1
100.0%
Flycatcher
(extant sp.)
15303
491
30.5
92
334
97.8%
Amphibians
Age
Genes
Contigs
Average size
(nb genes)
N50 size
(nb genes)
Genes not
in contigs
Coverage
(%)
Frog
(extant sp.)
18442
1339
13.1
23
902
95.1%
Fish
Age
Genes
Contigs
Average size
(nb genes)
N50 size
(nb genes)
Genes not
in contigs
Coverage
(%)
Tetraodon
(extant sp.)
19602
27
726.0
767
0
100.0%
Spotted gar
(extant sp.)
18341
186
96.8
773
332
98.2%
Amazon molly
(extant sp.)
23615
997
23.2
52
509
97.8%
Atlantic cod
(extant sp.)
20095
2716
6.4
10
2663
86.7%
Zebrafish
(extant sp.)
25658
99
256.9
994
225
99.1%
Medaka
(extant sp.)
19699
331
57.8
741
556
97.2%
Tilapia
(extant sp.)
21437
613
34.2
88
468
97.8%
Fugu
(extant sp.)
18523
853
20.5
52
1077
94.2%
Cave fish
(extant sp.)
23042
1367
15.9
37
1277
94.5%
Stickleback
(extant sp.)
20787
261
78.5
869
299
98.6%
Platyfish
(extant sp.)
20379
1244
15.4
44
1218
94.0%
Other chordates
Age
Genes
Contigs
Average size
(nb genes)
N50 size
(nb genes)
Genes not
in contigs
Coverage
(%)
Ciona savignyi
(extant sp.)
11616
285
40.6
143
59
99.5%
Lamprey
(extant sp.)
10415
1844
3.6
4
3826
63.3%
Coelacanth
(extant sp.)
19569
2510
7.2
11
1464
92.5%
Ciona intestinalis
(extant sp.)
16671
484
33.9
816
249
98.5%
Other eukaryotes
Age
Genes
Contigs
Average size
(nb genes)
N50 size
(nb genes)
Genes not
in contigs
Coverage
(%)
Yeast
(extant sp.)
6692
17
393.6
513
0
100.0%
Caenorhabditis elegans
(extant sp.)
20362
7
2908.9
3313
0
100.0%
Fruitfly
(extant sp.)
13918
9
1546.1
2734
3
100.0%
Ancestors in Primates
Age
Genes
Blocks
Average size
(nb genes)
N50 size
(nb genes)
Genes not
in blocks
Coverage
(%)
Cercopithecinae
~11 My
22104
153
127.8
787
2550
88.5%
Primates
~83 My
21790
131
145.1
704
2781
87.2%
Haplorrhini
~57 My
21335
163
115.3
485
2544
88.1%
Simiiformes
~45 My
22025
147
130.4
661
2862
87.0%
Catarrhini
~31 My
22788
146
135.2
870
3043
86.6%
Hominidae
~16 My
22730
153
130.6
763
2743
87.9%
Homo/Pan group
~5 My
20355
93
206.5
771
1149
94.4%
Hominoidea
~25 My
22255
147
134.5
682
2478
88.9%
Homo/Pan/Gorilla group
~9 My
22172
134
148.2
812
2313
89.6%
Strepsirrhini
~69 My
19192
253
70.9
198
1262
93.4%
Ancestors in Rodents etc.
Age
Genes
Blocks
Average size
(nb genes)
N50 size
(nb genes)
Genes not
in blocks
Coverage
(%)
Murinae
~37 My
20329
192
98.7
487
1387
93.2%
Mus
~10 My
20617
76
256.2
999
1143
94.5%
Rodentia
~80 My
20267
160
116.1
496
1696
91.6%
Lagomorpha
~48 My
18341
724
23.0
118
1689
90.8%
Sciurognathi
~79 My
20112
186
99.4
459
1617
92.0%
Glires
~81 My
20818
155
121.1
663
2052
90.1%
Ancestors in Laurasiatherias
Age
Genes
Blocks
Average size
(nb genes)
N50 size
(nb genes)
Genes not
in blocks
Coverage
(%)
Insectivora
~68 My
15772
2643
2.7
3
8695
44.9%
Bovidae
~30 My
20393
176
106.8
474
1593
92.2%
Carnivora
~56 My
20605
124
150.9
654
1895
90.8%
Caniformia
~44 My
20210
138
134.4
593
1658
91.8%
Chiroptera
~60 My
18648
1150
14.7
35
1688
90.9%
Caniformia_b
~44 My
19614
390
46.9
133
1325
93.2%
Cetartiodactyla
~61 My
21229
207
91.2
368
2352
88.9%
Laurasiatheria
~88 My
22900
137
141.5
965
3521
84.6%
Ancestors in mammals
Age
Genes
Blocks
Average size
(nb genes)
N50 size
(nb genes)
Genes not
in blocks
Coverage
(%)
Theria
~166 My
20849
347
49.8
339
3574
82.9%
Euarchontoglires
~90 My
22681
118
163.5
805
3387
85.1%
Diprotodontia
~65 My
18420
1781
8.4
14
3466
81.2%
Boreoeutheria
~95 My
23456
148
130.7
939
4107
82.5%
Marsupialia
~148 My
19522
540
31.5
120
2502
87.2%
Eutheria
~102 My
22906
225
83.4
644
4130
82.0%
Mammalia
~184 My
20310
664
24.5
100
4074
79.9%
Xenarthra
~64 My
18944
2108
7.6
12
2826
85.1%
Atlantogenata
~100 My
20800
336
54.7
234
2414
88.4%
Afrotheria
~94 My
19487
401
43.7
138
1944
90.0%
Ancestors in fish
Age
Genes
Blocks
Average size
(nb genes)
N50 size
(nb genes)
Genes not
in blocks
Coverage
(%)
Poeciliinae
~100 My
21777
623
31.7
132
2018
90.7%
Atherinomorphae
~100 My
21830
439
44.5
502
2281
89.6%
Percomorphaceae
~125 My
22932
404
49.2
602
3070
86.6%
Tetraodontidae
~70 My
19189
620
27.4
356
2208
88.5%
Ovalentaria
~103 My
22371
355
55.9
628
2522
88.7%
Clupeocephala
~300 My
23176
2016
9.2
17
4665
79.9%
Acanthomorphata
~165 My
22683
1643
11.4
27
3883
82.9%
Eupercaria
~125 My
21067
434
43.7
378
2102
90.0%
Otophysi
~150 My
22669
1630
12.0
23
3184
86.0%
Ancestors in vertebrates
Age
Genes
Blocks
Average size
(nb genes)
N50 size
(nb genes)
Genes not
in blocks
Coverage
(%)
Euteleostomi
~420 My
19939
2278
6.1
9
6127
69.3%
Galloanserae
~81 My
16499
263
56.2
331
1706
89.7%
Passeriformes
~45 My
15586
245
57.3
300
1541
90.1%
Craniata
~550 My
13485
553
2.2
2
12251
9.2%
Neopterygii
~330 My
19942
1466
10.6
22
4355
78.2%
Olfactores
~550 My
10158
162
2.1
2
9815
3.4%
Ciona
~100 My
10880
1536
3.4
4
5644
48.1%
Galliformes
~45 My
15780
196
73.8
384
1322
91.6%
Sauria
~267 My
18675
462
34.7
316
2658
85.8%
Neognathae
~105 My
16876
240
61.8
402
2039
87.9%
Amniota
~326 My
20318
439
37.0
254
4058
80.0%
Sarcopterygii
~400 My
19657
1506
10.0
20
4534
76.9%
Archelosauria
~250 My
17824
387
40.0
259
2349
86.8%
Tetrapoda
~359 My
19473
991
15.5
40
4090
79.0%
Other ancestors
Age
Genes
Blocks
Average size
(nb genes)
N50 size
(nb genes)
Genes not
in blocks
Coverage
(%)
Bilateria
~580 My
8042
67
2.1
2
7900
1.8%
Fungi/Metazoa group
~1500 My
2219
25
2.0
2
2168
2.3%
Ecdysozoa
~580 My
7485
54
2.1
2
7369
1.5%