A more recent version of genomicus is available here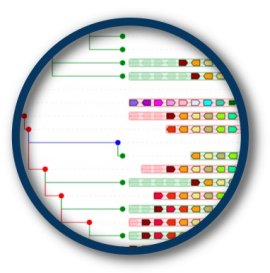 DYOGEN group
web-code version: 2017-06-13
database version: 98.01
Contact us.
Statistics on modern & ancestral genomes
Genomicus 98.01 contains 4056525 genes from 201 extant species. This data was analysed with a new method called AGORA (Algorithm for Gene Order Reconstruction in Ancestors; Muffato et al. in preparation) to identify 3987931 ancestral genes from 172 ancestral species, grouped into 77223 blocks of collinear genes.
The following tables present statistics on the data used in Genomicus, and on the reconstructed blocks in the ancestral species.
For extant species, a "contig" means a segment of the genome sequence assembly (chromosomes, scaffolds, contig) with at least two genes.
The average block length, the N25, N50 and N75 values do not take into account the singletons (blocks of one gene).
Primates
Age
Genes
Contigs
Average size
(nb genes)
N50 size
(nb genes)
Genes not
in contigs
Coverage
(%)
Angola colobus
(extant sp.)
20617
617
33.2
66
113
99.5%
Black snub-nosed monkey
(extant sp.)
20966
1503
13.3
24
1007
95.2%
Bolivian squirrel monkey
(extant sp.)
19380
275
70.3
151
45
99.8%
Bushbaby
(extant sp.)
19506
374
51.8
115
151
99.2%
Capuchin
(extant sp.)
20317
838
24.0
51
199
99.0%
Chimpanzee
(extant sp.)
23534
261
88.8
963
364
98.5%
Coquerels sifaka
(extant sp.)
17925
625
28.4
53
185
99.0%
Crab-eating macaque
(extant sp.)
21584
76
281.4
1154
198
99.1%
Drill
(extant sp.)
20841
1225
16.8
31
313
98.5%
Gelada
(extant sp.)
22515
77
288.0
1158
337
98.5%
Gibbon
(extant sp.)
20794
111
185.3
821
225
98.9%
Golden snub-nosed monkey
(extant sp.)
21289
1776
11.4
20
1001
95.3%
Gorilla
(extant sp.)
21794
56
384.3
1035
271
98.8%
Greater bamboo lemur
(extant sp.)
20354
1343
14.5
27
888
95.6%
Human
(extant sp.)
23122
283
81.4
877
77
99.7%
Marmoset
(extant sp.)
22615
62
357.0
1165
483
97.9%
Mas night monkey
(extant sp.)
20412
630
32.0
66
268
98.7%
Mouse lemur
(extant sp.)
18895
44
428.7
737
32
99.8%
Olive baboon
(extant sp.)
21647
143
149.5
1138
275
98.7%
Orangutan
(extant sp.)
20424
53
385.4
843
0
100.0%
Pig-tailed macaque
(extant sp.)
21060
344
60.9
117
105
99.5%
Rhesus
(extant sp.)
21748
66
327.9
1114
108
99.5%
Sooty mangabey
(extant sp.)
20926
420
49.5
107
129
99.4%
Tarsier
(extant sp.)
18398
3275
4.8
6
2658
85.6%
Ugandan red Colobus
(extant sp.)
24588
689
31.6
105
2848
88.4%
Vervet Monkey
(extant sp.)
19165
54
353.7
696
65
99.7%
pygmy chimpanzee
(extant sp.)
21210
76
276.9
946
167
99.2%
Rodents etc.
Age
Genes
Contigs
Average size
(nb genes)
N50 size
(nb genes)
Genes not
in contigs
Coverage
(%)
Alpin marmot
(extant sp.)
20389
204
98.4
250
324
98.4%
American beaver
(extant sp.)
20637
3300
5.4
7
2958
85.7%
Arctic ground squirrel
(extant sp.)
19674
968
20.0
39
348
98.2%
Brazilian-Guinea pig
(extant sp.)
14218
235
60.4
182
35
99.8%
Chinese hamster CHOK1GS
(extant sp.)
20824
130
159.1
606
146
99.3%
Chinese hamster Crigri-PICR
(extant sp.)
22028
376
57.9
192
253
98.9%
Cricetulus griseus Crigri
(extant sp.)
19617
1997
9.3
16
1134
94.2%
Damara mole rat
(extant sp.)
17730
728
24.1
50
202
98.9%
Daurian ground squirrel
(extant sp.)
21061
1632
12.4
23
884
95.8%
Degu
(extant sp.)
19982
396
50.1
113
130
99.3%
Golden Hamster
(extant sp.)
18257
312
57.0
110
465
97.5%
Guinea pig
(extant sp.)
18095
258
69.9
214
61
99.7%
Kangaroo rat
(extant sp.)
16911
289
57.7
108
239
98.6%
Lesser Egyptian jerboa
(extant sp.)
17845
238
74.7
128
77
99.6%
Long-tailed chinchilla
(extant sp.)
17809
212
83.7
154
69
99.6%
Mongolian gerbil
(extant sp.)
21140
2634
7.3
13
1979
90.6%
Mouse
(extant sp.)
22674
94
241.1
1198
10
100.0%
Naked mole-rat female
(extant sp.)
20774
274
75.5
158
92
99.6%
Naked mole-rat male
(extant sp.)
20742
1965
10.2
18
714
96.6%
Northern American deer mouse
(extant sp.)
21687
85
251.5
1173
310
98.6%
Pika
(extant sp.)
16006
3010
3.9
4
4397
72.5%
Prairie vole
(extant sp.)
19130
192
99.1
484
97
99.5%
Rabbit
(extant sp.)
20612
567
35.5
754
459
97.8%
Rat
(extant sp.)
22245
55
403.0
1311
78
99.6%
Ryukyu mouse
(extant sp.)
19422
20
971.1
1026
0
100.0%
Shrew mouse
(extant sp.)
19245
24
801.9
926
0
100.0%
Squirrel
(extant sp.)
18474
486
37.6
90
212
98.9%
Steppe mouse
(extant sp.)
22924
1578
13.7
29
1348
94.1%
Tree shrew
(extant sp.)
15471
3162
3.3
4
5087
67.1%
Upper Galilee mountains blind mole rat
(extant sp.)
18647
1079
17.0
30
354
98.1%
spretus
(extant sp.)
19744
20
987.2
1121
0
100.0%
Laurasiatherias
Age
Genes
Contigs
Average size
(nb genes)
N50 size
(nb genes)
Genes not
in contigs
Coverage
(%)
Alpaca
(extant sp.)
11765
2006
4.4
5
2999
74.5%
American bison
(extant sp.)
20241
727
26.2
72
1159
94.3%
American black bear
(extant sp.)
20568
3890
4.2
5
4385
78.7%
American mink
(extant sp.)
19619
670
28.9
70
240
98.8%
Cat
(extant sp.)
19587
69
282.7
1093
79
99.6%
Common shrew
(extant sp.)
13187
1965
2.7
3
7946
39.7%
Cow
(extant sp.)
21880
62
351.8
845
66
99.7%
Dingo
(extant sp.)
21360
155
136.6
413
194
99.1%
Dog
(extant sp.)
20257
87
231.3
614
134
99.3%
Dolphin
(extant sp.)
16550
3179
4.4
5
2472
85.1%
Donkey
(extant sp.)
19963
410
48.0
136
293
98.5%
Ferret
(extant sp.)
19910
503
39.0
96
276
98.6%
Giant Panda
(extant sp.)
19343
1819
10.2
18
799
95.9%
Goat
(extant sp.)
21361
151
137.4
735
611
97.1%
Hedgehog
(extant sp.)
14601
2105
2.4
2
9606
34.2%
Horse
(extant sp.)
20955
121
171.7
739
178
99.2%
Megabat
(extant sp.)
16990
3187
4.3
5
3198
81.2%
Microbat
(extant sp.)
19728
1249
14.9
39
1169
94.1%
Pig
(extant sp.)
21301
162
130.8
1238
118
99.4%
Polar bear
(extant sp.)
18724
339
54.9
116
124
99.3%
Red fox
(extant sp.)
20305
361
55.8
117
173
99.1%
Sheep
(extant sp.)
20921
117
174.0
870
564
97.3%
Tiger
(extant sp.)
17544
506
34.5
62
62
99.6%
Wild yak
(extant sp.)
20847
2139
9.3
15
883
95.8%
leopard
(extant sp.)
19688
306
63.7
171
204
99.0%
Xenarthras etc.
Age
Genes
Contigs
Average size
(nb genes)
N50 size
(nb genes)
Genes not
in contigs
Coverage
(%)
Armadillo
(extant sp.)
22711
2554
8.3
13
1448
93.6%
Sloth
(extant sp.)
12393
1181
2.2
2
9778
21.1%
Afrotherias etc.
Age
Genes
Contigs
Average size
(nb genes)
N50 size
(nb genes)
Genes not
in contigs
Coverage
(%)
Elephant
(extant sp.)
20033
355
55.8
230
228
98.9%
Hyrax
(extant sp.)
16057
2834
2.9
3
7783
51.5%
Tenrec
(extant sp.)
16575
2559
2.6
2
10047
39.4%
Marsupials & Monotremes
Age
Genes
Contigs
Average size
(nb genes)
N50 size
(nb genes)
Genes not
in contigs
Coverage
(%)
Common wonbat
(extant sp.)
21201
449
45.9
155
603
97.2%
Opossum
(extant sp.)
21384
167
126.5
2880
258
98.8%
Platypus
(extant sp.)
21698
1855
6.8
22
9138
57.9%
Tasmanian devil
(extant sp.)
18788
1966
8.7
15
1654
91.2%
Wallaby
(extant sp.)
15290
1720
2.4
2
11119
27.3%
koala
(extant sp.)
19833
460
42.7
97
192
99.0%
Birds & Reptiles
Age
Genes
Contigs
Average size
(nb genes)
N50 size
(nb genes)
Genes not
in contigs
Coverage
(%)
Abingdon island giant tortoise
(extant sp.)
20204
2039
9.6
15
715
96.5%
Agassiz s desert tortoise
(extant sp.)
20137
4300
3.7
4
4212
79.1%
Argentine black and white tegu
(extant sp.)
19342
226
84.9
201
155
99.2%
Australian saltwater crocodile
(extant sp.)
15226
70
217.5
392
0
100.0%
Bengalese finch
(extant sp.)
15917
739
21.2
43
279
98.2%
Blue tit
(extant sp.)
15470
335
41.2
212
1659
89.3%
Blue-crowned manakin
(extant sp.)
15320
483
31.1
66
303
98.0%
Budgerigar
(extant sp.)
14568
437
31.5
128
802
94.5%
Central bearded dragon
(extant sp.)
19580
1184
16.0
31
601
96.9%
Chicken
(extant sp.)
16878
49
343.8
546
32
99.8%
Chilean tinamou
(extant sp.)
15704
575
26.9
54
262
98.3%
Chinese turtle
(extant sp.)
18189
1467
11.9
23
726
96.0%
Common canary
(extant sp.)
15225
241
60.0
323
753
95.1%
Dark-eyed junco
(extant sp.)
14551
63
226.8
516
263
98.2%
Duck
(extant sp.)
16618
318
45.4
478
2172
86.9%
Emu
(extant sp.)
15615
776
19.8
39
287
98.2%
Flycatcher
(extant sp.)
15303
491
30.5
92
334
97.8%
Golden-collared manakin
(extant sp.)
15928
359
40.9
225
1234
92.3%
Great Tit
(extant sp.)
15003
146
101.4
512
196
98.7%
Great spotted kiwi
(extant sp.)
16674
1296
12.5
23
513
96.9%
Helmeted guineafowl
(extant sp.)
15661
176
87.5
729
267
98.3%
Japanese quail
(extant sp.)
15732
166
93.4
527
225
98.6%
Little spotted kiwi
(extant sp.)
16196
1077
14.5
27
553
96.6%
Lizard
(extant sp.)
18595
1055
16.3
868
1370
92.6%
Mainland tiger snake
(extant sp.)
18969
868
19.7
63
1883
90.1%
Okarito brown kiwi
(extant sp.)
16257
1060
14.9
30
435
97.3%
Pink-footed goose
(extant sp.)
15545
592
25.8
62
282
98.2%
Ruff
(extant sp.)
16422
532
30.3
113
293
98.2%
Spoon-billed sandpiper
(extant sp.)
16334
963
15.9
38
991
93.9%
Turkey
(extant sp.)
14123
140
97.2
505
510
96.4%
White-throated sparrow
(extant sp.)
13862
601
22.3
58
442
96.8%
Zebra finch
(extant sp.)
17488
68
257.2
712
1
100.0%
painted turtle
(extant sp.)
21186
910
22.1
58
1051
95.0%
tuatara
(extant sp.)
17648
1424
12.1
19
473
97.3%
Amphibians
Age
Genes
Contigs
Average size
(nb genes)
N50 size
(nb genes)
Genes not
in contigs
Coverage
(%)
Frog
(extant sp.)
19987
395
49.0
1859
649
96.8%
Fish
Age
Genes
Contigs
Average size
(nb genes)
N50 size
(nb genes)
Genes not
in contigs
Coverage
(%)
Amazon molly
(extant sp.)
23615
997
23.2
52
509
97.8%
Asian bonytongue
(extant sp.)
23800
291
81.4
172
110
99.5%
Atlantic herring
(extant sp.)
18810
26
723.5
743
0
100.0%
Ballan wrasse
(extant sp.)
27393
2269
11.0
35
2498
90.9%
Barramundi perch
(extant sp.)
25109
1200
20.4
54
577
97.7%
Bicolor damselfish
(extant sp.)
23089
2314
9.8
15
525
97.7%
Big-finned mudskipper
(extant sp.)
22256
2373
8.7
16
1668
92.5%
Blunt-snouted clingfish
(extant sp.)
23190
200
115.4
936
113
99.5%
Burton's mouthbrooder
(extant sp.)
23079
1124
19.8
46
866
96.2%
Cave fish
(extant sp.)
26698
887
29.6
671
482
98.2%
Channel bull blenny
(extant sp.)
21662
219
98.6
859
62
99.7%
Channel catfish
(extant sp.)
23651
105
221.7
841
371
98.4%
Climbing perch
(extant sp.)
24643
48
513.2
1190
8
100.0%
Clown anemonefish
(extant sp.)
23592
2665
8.5
13
911
96.1%
Cod
(extant sp.)
20095
2716
6.4
10
2663
86.7%
Eastern happy
(extant sp.)
27018
139
194.0
1187
50
99.8%
Electric eel
(extant sp.)
22840
1454
15.3
30
627
97.3%
Fugu
(extant sp.)
20545
596
32.9
698
959
95.3%
Greater amberjack
(extant sp.)
23278
320
72.3
208
152
99.3%
Guppy
(extant sp.)
22871
129
174.7
934
332
98.5%
Huchen
(extant sp.)
50114
5762
7.6
13
6569
86.9%
Indian glassy fish
(extant sp.)
23965
82
292.0
1045
23
99.9%
Indian medaka
(extant sp.)
23543
298
77.4
759
492
97.9%
Japanese Medaka HNI
(extant sp.)
22127
24
922.0
950
0
100.0%
Japanese Medaka HSOK
(extant sp.)
22785
24
949.4
978
0
100.0%
Japanese Medaka HdrR
(extant sp.)
23622
25
944.9
993
0
100.0%
Large yellow croaker
(extant sp.)
22929
145
156.1
966
299
98.7%
Lyretail cichlid
(extant sp.)
23596
468
49.2
157
590
97.5%
Mangrove rivulus
(extant sp.)
21930
1006
21.2
89
652
97.0%
Midas cichlid
(extant sp.)
23696
1230
18.8
43
614
97.4%
Monterrey platyfish
(extant sp.)
20569
25
822.8
844
0
100.0%
Mummichog
(extant sp.)
23069
1378
15.9
35
1116
95.2%
Northern pike
(extant sp.)
23954
231
103.2
938
120
99.5%
Ocean sunfish
(extant sp.)
21404
147
144.6
319
149
99.3%
Orange clownfish
(extant sp.)
23926
31
770.5
1036
41
99.8%
P. kingsleyae
(extant sp.)
24792
917
26.4
64
579
97.7%
P. nyererei
(extant sp.)
23501
720
31.6
91
718
96.9%
Platyfish
(extant sp.)
23774
51
465.9
1020
14
99.9%
Red-bellied piranha
(extant sp.)
26734
1652
15.3
41
1524
94.3%
Sailfin molly
(extant sp.)
23640
2955
7.6
11
1254
94.7%
Sheepshead minnow
(extant sp.)
23019
1773
12.7
22
584
97.5%
Shortfin molly
(extant sp.)
24074
2947
7.7
12
1320
94.5%
Siamese fighting fish
(extant sp.)
22388
38
588.9
1080
8
100.0%
Spiny chromis
(extant sp.)
24027
2637
8.4
14
1892
92.1%
Spotted gar
(extant sp.)
18341
186
96.8
773
332
98.2%
Stickleback
(extant sp.)
20787
261
78.5
869
299
98.6%
Swamp eel
(extant sp.)
22145
657
32.9
84
511
97.7%
Tetraodon
(extant sp.)
19602
27
726.0
767
0
100.0%
Tiger tail seahorse
(extant sp.)
20852
446
45.6
90
518
97.5%
Tilapia
(extant sp.)
21437
613
34.2
88
468
97.8%
Tongue sole
(extant sp.)
21372
74
284.6
955
309
98.6%
Turbot
(extant sp.)
21000
22
954.5
944
0
100.0%
Western mosquitofish
(extant sp.)
21724
339
63.1
229
338
98.4%
Yellowtail amberjack
(extant sp.)
24755
925
24.5
57
2115
91.5%
Zebra mbuna
(extant sp.)
27187
690
38.9
978
357
98.7%
Zebrafish
(extant sp.)
30290
823
36.5
953
288
99.0%
Zig-zag eel
(extant sp.)
23333
69
337.9
1019
18
99.9%
dclupeoides
(extant sp.)
24142
251
95.9
989
63
99.7%
Other chordates
Age
Genes
Contigs
Average size
(nb genes)
N50 size
(nb genes)
Genes not
in contigs
Coverage
(%)
Ciona intestinalis
(extant sp.)
16671
484
33.9
816
249
98.5%
Ciona savignyi
(extant sp.)
11616
285
40.6
143
59
99.5%
Coelacanth
(extant sp.)
19569
2510
7.2
11
1464
92.5%
Elephant shark
(extant sp.)
19415
914
18.7
75
2329
88.0%
Hagfish
(extant sp.)
16513
1328
12.3
19
196
98.8%
Lamprey
(extant sp.)
10415
1844
3.6
4
3826
63.3%
Reedfish
(extant sp.)
22329
288
76.3
1133
350
98.4%
Other eukaryotes
Age
Genes
Contigs
Average size
(nb genes)
N50 size
(nb genes)
Genes not
in contigs
Coverage
(%)
Caenorhabditis elegans
(extant sp.)
20191
7
2884.4
3285
0
100.0%
Fruitfly
(extant sp.)
13931
9
1547.6
2731
3
100.0%
Yeast
(extant sp.)
6600
17
388.2
505
0
100.0%
Ancestors in Primates
Age
Genes
Blocks
Average size
(nb genes)
N50 size
(nb genes)
Genes not
in blocks
Coverage
(%)
Catarrhini
~30 My
29148
217
101.8
866
7060
75.8%
Cebidae
~19 My
24108
221
89.4
557
4342
82.0%
Cercopithecidae
~19 My
29407
242
94.5
855
6542
77.8%
Cercopithecinae
~13 My
28933
262
90.4
1045
5236
81.9%
Colobinae
~14 My
26881
385
57.5
269
4762
82.3%
Haplorrhini
~57 My
25395
180
109.3
673
5725
77.5%
Hominidae
~16 My
25000
229
93.7
811
3547
85.8%
Hominoidea
~25 My
25353
206
105.1
864
3710
85.4%
Homo/Pan group
~5 My
23780
204
105.7
966
2219
90.7%
Homo/Pan/Gorilla group
~9 My
24493
215
101.5
875
2667
89.1%
Lemuriformes
~37 My
21055
231
81.0
347
2335
88.9%
Macaca
~5 My
25208
184
119.6
990
3205
87.3%
Pan
~3 My
23023
164
131.7
694
1427
93.8%
Platyrrhini
~19 My
24514
206
96.0
429
4744
80.6%
Primates
~83 My
26191
182
110.2
751
6137
76.6%
Rhinopithecus
~3 My
22361
1067
18.9
44
2217
90.1%
Simiiformes
~45 My
27813
204
100.7
773
7264
73.9%
Strepsirrhini
~69 My
21482
173
109.6
670
2513
88.3%
Ancestors in Rodents etc.
Age
Genes
Blocks
Average size
(nb genes)
N50 size
(nb genes)
Genes not
in blocks
Coverage
(%)
Bathyergidae
~33 My
19671
295
60.0
178
1958
90.0%
Castorimorpha
~63 My
19914
361
42.7
87
4486
77.5%
Cavia
~4 My
18202
305
56.4
183
997
94.5%
Cricetidae
~20 My
22793
171
115.5
730
3048
86.6%
Cricetidae_B
~18 My
20914
175
109.7
538
1723
91.8%
Cricetinae
~17 My
21836
185
105.3
752
2363
89.2%
Cricetulus griseus
(extant sp.)
22723
205
99.5
572
2334
89.7%
Cricetulus griseus_a
(extant sp.)
21433
215
93.8
375
1261
94.1%
Glires
~81 My
25782
175
112.7
756
6055
76.5%
Heterocephalus glaber
(extant sp.)
21636
613
31.4
99
2361
89.1%
Hystricomorpha
~42 My
21127
204
89.4
356
2880
86.4%
Hystricomorpha_a
~35 My
20068
181
98.6
303
2228
88.9%
Hystricomorpha_b
~32 My
18946
192
90.2
205
1628
91.4%
Lagomorpha
~48 My
19198
780
21.6
104
2315
87.9%
Marmotini
~11 My
22868
323
61.0
285
3162
86.2%
Marmotini_b
~11 My
22417
469
41.8
138
2802
87.5%
Marmotini_c
~11 My
21777
710
27.4
71
2298
89.4%
Muridae
~29 My
24066
192
103.8
839
4144
82.8%
Murinae
~20 My
22114
183
108.0
630
2347
89.4%
Muroidea
~44 My
23064
211
90.8
388
3903
83.1%
Mus
~7 My
22263
144
139.8
981
2136
90.4%
Mus_A
~6 My
22675
149
137.2
1068
2229
90.2%
Mus_B
~2 My
23359
166
125.6
964
2514
89.2%
Mus_C
~2 My
22749
155
131.8
809
2313
89.8%
Myomorpha
~51 My
23032
184
103.4
488
4005
82.6%
Rodentia
~80 My
25571
183
107.5
678
5898
76.9%
Sciurognathi
~79 My
25267
195
100.8
667
5603
77.8%
Ancestors in Laurasiatherias
Age
Genes
Blocks
Average size
(nb genes)
N50 size
(nb genes)
Genes not
in blocks
Coverage
(%)
Bos
~4 My
22582
240
85.5
360
2072
90.8%
Bovidae
~25 My
23836
225
89.4
615
3718
84.4%
Bovinae
~5 My
23158
248
82.6
524
2683
88.4%
Canidae
~14 My
22011
167
116.8
378
2511
88.6%
Caniformia
~44 My
23990
176
112.9
636
4124
82.8%
Caniformia_b
~44 My
23086
238
82.4
433
3465
85.0%
Canis lupus
~1 My
21865
143
139.6
417
1897
91.3%
Caprinae
~9 My
21963
214
91.8
706
2322
89.4%
Carnivora
~56 My
24326
152
131.2
881
4388
82.0%
Cetartiodactyla
~61 My
23185
183
107.3
651
3551
84.7%
Chiroptera
~60 My
18823
1092
15.5
38
1846
90.2%
Equus
~7 My
20990
212
92.6
344
1360
93.5%
Felidae
~15 My
21007
126
152.9
664
1744
91.7%
Insectivora
~68 My
15937
2609
2.7
3
8894
44.2%
Laurasiatheria
~88 My
27106
194
106.5
1010
6440
76.2%
Mustelinae
~8 My
20358
333
56.4
157
1592
92.2%
Panthera
~7 My
19819
189
98.7
356
1167
94.1%
Ursidae
~23 My
21982
383
50.4
153
2682
87.8%
Ursus
~6 My
21103
483
39.1
117
2219
89.5%
Ancestors in mammals
Age
Genes
Blocks
Average size
(nb genes)
N50 size
(nb genes)
Genes not
in blocks
Coverage
(%)
Afrotheria
~94 My
19870
402
43.8
131
2273
88.6%
Atlantogenata
~100 My
21598
338
54.9
214
3044
85.9%
Boreoeutheria
~95 My
29360
192
108.0
1070
8622
70.6%
Diprotodontia
~35 My
21065
241
75.2
314
2950
86.0%
Euarchontoglires
~90 My
28893
194
106.0
907
8328
71.2%
Eutheria
~102 My
27087
255
76.6
810
7555
72.1%
Mammalia
~184 My
24117
655
26.1
131
6995
71.0%
Marsupialia
~85 My
21638
242
75.4
707
3383
84.4%
Marsupialia_b
~85 My
21192
281
64.8
452
2994
85.9%
Theria
~166 My
25088
319
57.2
384
6826
72.8%
Xenarthra
~64 My
19218
2069
7.7
12
3187
83.4%
Ancestors in fish
Age
Genes
Blocks
Average size
(nb genes)
N50 size
(nb genes)
Genes not
in blocks
Coverage
(%)
Acanthomorphata
~148 My
32346
1275
17.1
57
10542
67.4%
Amphiprion
~3 My
24058
429
51.4
174
2011
91.6%
Anabantaria
~81 My
25222
210
105.3
914
3117
87.6%
Anabantoidei
~52 My
23099
183
117.0
891
1692
92.7%
Atherinomorphae
~93 My
29595
343
66.0
838
6953
76.5%
Carangaria
~83 My
26862
240
94.2
845
4252
84.2%
Characiphysae
~150 My
27024
622
34.5
123
5553
79.5%
Characiphysae_b
~150 My
26510
631
33.9
111
5090
80.8%
Characoidei
~110 My
25599
783
27.2
79
4319
83.1%
Cichlidae
~95 My
27343
420
54.0
717
4642
83.0%
Clupeiformes
~168 My
23177
1241
15.9
33
3457
85.1%
Clupeocephala
~229 My
34760
1136
19.8
59
12315
64.6%
Cyprinodontiformes
~74 My
28019
370
60.4
783
5660
79.8%
Cyprinodontoidei
~57 My
28297
376
60.1
802
5694
79.9%
Eupecaria_A
~110 My
26193
263
84.3
781
4027
84.6%
Eupecaria_B
~110 My
24404
245
88.3
769
2766
88.7%
Eupercaria
~110 My
27905
256
88.3
944
5311
81.0%
Euteleosteomorpha
~206 My
34149
1019
22.2
77
11563
66.1%
Haplochromini
~6 My
28160
498
47.4
681
4552
83.8%
NAME_10
~22 My
28474
472
49.8
771
4989
82.5%
NAME_11
~6 My
27999
475
49.8
699
4332
84.5%
NAME_12
~5 My
27826
494
48.4
532
3899
86.0%
NAME_13
~67 My
24867
425
51.5
261
2960
88.1%
NAME_14
~128 My
28636
258
89.7
942
5482
80.9%
NAME_4
~57 My
23862
727
29.2
93
2625
89.0%
NAME_5
~42 My
25212
268
82.4
820
3142
87.5%
NAME_6
~40 My
26455
824
27.7
98
3660
86.2%
NAME_7
~40 My
25414
900
25.0
78
2951
88.4%
NAME_8
(extant sp.)
23849
166
127.1
829
2750
88.5%
NAME_9
~128 My
29694
309
75.4
926
6408
78.4%
Oryzias latipes
~2 My
24500
207
102.6
819
3268
86.7%
Oryzias
~10 My
24191
301
69.5
574
3271
86.5%
Otomorpha
~221 My
28686
1050
20.7
50
6966
75.7%
Otophysi
~152 My
27411
907
23.6
60
5975
78.2%
Ovalentaria Incertae sedis
~94 My
26449
311
72.0
789
4063
84.6%
Ovalentaria
~128 My
34557
346
69.6
991
10459
69.7%
Ovalentaria_A
~111 My
33669
347
69.2
989
9645
71.4%
Perciformes
~76 My
22415
298
69.5
696
1699
92.4%
Percomorphaceae
~128 My
32991
928
24.2
146
10517
68.1%
Percomorphaceae_A
~128 My
33055
633
35.9
422
10334
68.7%
Percomorphaceae_B
~128 My
34881
371
64.2
945
11058
68.3%
Pleuronectoidei
~64 My
22515
325
64.1
335
1672
92.6%
Poecilia
~40 My
26744
359
63.4
531
3993
85.1%
Poeciliinae
~42 My
28095
327
70.1
924
5183
81.6%
Pomacentridae
~67 My
25597
413
53.5
306
3498
86.3%
Protocanthropterygii
~127 My
27562
1144
18.9
54
5954
78.4%
Pseudocrenilabrinae
~22 My
27914
480
48.1
640
4847
82.6%
Seriola
~10 My
24166
308
71.4
306
2190
90.9%
Synbranchiformes
~73 My
22856
211
100.2
750
1713
92.5%
Tetraodontidae
~51 My
20939
518
35.9
404
2361
88.7%
Tetraodontiformes
~77 My
23143
290
70.9
627
2592
88.8%
Xiphophorus
~2 My
24296
256
85.2
768
2497
89.7%
Ancestors in vertebrates
Age
Genes
Blocks
Average size
(nb genes)
N50 size
(nb genes)
Genes not
in blocks
Coverage
(%)
Actinopterigyii
~386 My
27077
1241
13.8
40
9997
63.1%
Amniota
~326 My
27418
500
35.9
342
9476
65.4%
Anatidae
~30 My
16664
275
54.7
253
1611
90.3%
Apteryx
~10 My
17391
718
21.9
54
1640
90.6%
Apteryx_b
~10 My
16875
895
17.3
35
1383
91.8%
Archelosauria
~250 My
25029
383
47.9
402
6672
73.3%
Archosauria
~236 My
22527
336
50.9
437
5421
75.9%
Aves
~111 My
22436
313
54.7
505
5309
76.3%
Calidris
~10 My
16641
327
46.7
249
1368
91.8%
Chordata
~550 My
10404
173
2.1
2
10041
3.5%
Ciona
~100 My
11116
1430
3.3
3
6447
42.0%
Cryptodira
~161 My
21423
551
32.2
118
3657
82.9%
Cyclostomata
~470 My
13708
1262
2.4
2
10706
21.9%
Episquamata
~178 My
20929
263
66.1
582
3541
83.1%
Estrildinae
~10 My
17080
263
57.0
397
2080
87.8%
Euteleostomi
~420 My
28057
1542
10.6
24
11664
58.4%
Galliformes
~46 My
17644
201
77.6
522
2055
88.4%
Galloanserae
~80 My
18695
236
68.0
522
2648
85.8%
Gnathostomata
~473 My
21195
1755
7.0
11
8979
57.6%
Iguania
~157 My
19137
507
33.2
101
2306
88.0%
Lepidosauria
~251 My
21272
401
43.5
269
3809
82.1%
Neognathae
~105 My
21855
273
61.7
545
5024
77.0%
Neognathae_b
~105 My
20503
241
68.0
469
4109
80.0%
Neognathae_c
~105 My
17129
241
63.9
367
1741
89.8%
Neopterygii
~314 My
27625
1016
17.3
66
10012
63.8%
Osteoglossiformes
~163 My
24005
1037
20.2
50
3029
87.4%
Osteoglossocephalai
~267 My
31629
1278
15.8
61
11416
63.9%
Palaeognathae
~62 My
18304
345
46.9
228
2138
88.3%
Palaeognathae_b
~62 My
17658
440
36.1
102
1773
90.0%
Paridae
~13 My
16109
173
84.5
402
1491
90.7%
Passerellidae
~5 My
15784
186
77.3
337
1403
91.1%
Passeriformes
~65 My
19586
248
64.1
460
3683
81.2%
Passeriformes_b
~65 My
19531
252
63.3
466
3581
81.7%
Passeriformes_c
~65 My
17133
200
75.2
514
2087
87.8%
Passeriformes_d
~65 My
19069
249
63.2
457
3337
82.5%
Passeroidea
~35 My
17993
268
57.5
392
2591
85.6%
Phasianidae
~42 My
17189
184
84.0
514
1737
89.9%
Phasianidae_b
~42 My
16183
167
89.5
495
1232
92.4%
Pipridae
~6 My
15943
214
68.5
269
1275
92.0%
Sarcopterygii
~400 My
25600
1241
13.5
36
8906
65.2%
Sauria
~267 My
25956
381
48.3
437
7572
70.8%
Testudinidae
~53 My
21122
1855
9.4
16
3664
82.7%
Testudinoidea
~80 My
21941
758
23.8
77
3868
82.4%
Tetrapoda
~359 My
25233
866
19.3
81
8512
66.3%
Toxicofera
~168 My
20420
343
50.2
334
3204
84.3%
Vertebrata
~550 My
16393
1154
2.4
2
13660
16.7%
Other ancestors
Age
Genes
Blocks
Average size
(nb genes)
N50 size
(nb genes)
Genes not
in blocks
Coverage
(%)
Bilateria
~580 My
7589
76
2.1
2
7428
2.1%
Ecdysozoa
~580 My
7473
55
2.1
2
7356
1.6%
Fungi/Metazoa group
~1500 My
2394
33
2.1
2
2325
2.9%