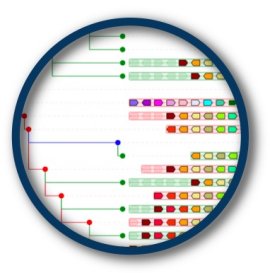 DYOGEN group
web-code version: 2017-06-13
database version: 01.01

Contact us.
Statistics on modern & ancestral genomes
Genomicus 01.01 contains 281605 genes from 12 extant species. This data was analysed with a new method called AGORA (Algorithm for Gene Order Reconstruction in Ancestors; Muffato et al. in preparation) to identify 219021 ancestral genes from 11 ancestral species, grouped into 9610 blocks of collinear genes.
The following tables present statistics on the data used in Genomicus, and on the reconstructed blocks in the ancestral species.
For extant species, a "contig" means a segment of the genome sequence assembly (chromosomes, scaffolds, contig) with at least two genes.
The average block length, the N25, N50 and N75 values do not take into account the singletons (blocks of one gene).
Mammals
Age
Genes
Contigs
Average size
(nb genes)
N50 size
(nb genes)
Genes not
in contigs
Coverage
(%)
Homo sapiens
(extant sp.)
21892
211
103.4
891
69
99.7%
Mus musculus
(extant sp.)
22101
60
368.2
1113
9
100.0%
Other Amniota
Age
Genes
Contigs
Average size
(nb genes)
N50 size
(nb genes)
Genes not
in contigs
Coverage
(%)
Monodelphis domestica
(extant sp.)
21327
11
1938.8
2870
0
100.0%
Gallus gallus
(extant sp.)
15508
133
111.5
521
676
95.6%
Fish
Age
Genes
Contigs
Average size
(nb genes)
N50 size
(nb genes)
Genes not
in contigs
Coverage
(%)
Lepisosteus oculatus
(extant sp.)
18341
186
96.8
773
332
98.2%
Danio rerio
(extant sp.)
25453
99
254.8
993
225
99.1%
Other chordates
Age
Genes
Contigs
Average size
(nb genes)
N50 size
(nb genes)
Genes not
in contigs
Coverage
(%)
Branchiostoma floridae
(extant sp.)
28666
383
74.8
138
8
100.0%
Branchiostoma lanceolatum Pac
(extant sp.)
38542
486
79.1
292
123
99.7%
Branchiostoma lanceolatum ill
(extant sp.)
38739
1383
26.0
91
2734
92.9%
Ciona intestinalis
(extant sp.)
16671
484
33.9
816
249
98.5%
Other eukaryotes
Age
Genes
Contigs
Average size
(nb genes)
N50 size
(nb genes)
Genes not
in contigs
Coverage
(%)
Caenorhabditis elegans
(extant sp.)
20447
7
2921.0
3319
0
100.0%
Drosophila melanogaster
(extant sp.)
13918
9
1546.1
2734
3
100.0%
Ancestors in vertebrates
Age
Genes
Blocks
Average size
(nb genes)
N50 size
(nb genes)
Genes not
in blocks
Coverage
(%)
Euteleostomi
~10 My
21596
2204
5.3
7
9819
54.5%
Neopterygii
~10 My
21006
2046
6.7
11
7277
65.4%
Theria
~10 My
19609
522
27.9
120
5032
74.3%
Euarchontoglires
~10 My
18958
591
20.1
55
7062
62.7%
Chordata
~10 My
21793
542
2.2
2
20617
5.4%
Olfactores
~10 My
17852
541
2.2
2
16679
6.6%
Amniota
~10 My
18900
903
15.1
56
5308
71.9%
Branchiostoma lanceolatum
~10 My
27557
1238
13.9
40
10289
62.7%
Branchiostoma
~10 My
28049
981
4.7
7
23424
16.5%
Other ancestors
Age
Genes
Blocks
Average size
(nb genes)
N50 size
(nb genes)
Genes not
in blocks
Coverage
(%)
Bilateria
~10 My
13958
22
2.0
2
13914
0.3%
Ecdysozoa
~10 My
9743
20
2.0
2
9703
0.4%