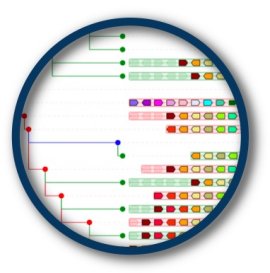 DYOGEN group
web-code version: 2021-08-15
database version: 51.01

Contact us.
Statistics on modern & ancestral genomes
Genomicus 51.01 contains 2097662 genes from 117 extant species. This data was analysed with a new method called AGORA (Algorithm for Gene Order Reconstruction in Ancestors; Muffato et al. in preparation) to identify 1825824 ancestral genes from 81 ancestral species, grouped into 80684 blocks of collinear genes.
The following tables present statistics on the data used in Genomicus, and on the reconstructed blocks in the ancestral species.
For extant species, a "contig" means a segment of the genome sequence assembly (chromosomes, scaffolds, contig) with at least two genes.
The average block length, the N25, N50 and N75 values do not take into account the singletons (blocks of one gene).
Nematoda
Genes
Contigs
Average size
(nb genes)
N50 size
(nb genes)
Genes not
in contigs
Coverage
(%)
Brugia malayi
11010
79
139.1
1843
20
99.8%
Caenorhabditis brenneri
30674
1172
25.7
97
581
98.1%
Caenorhabditis briggsae
20996
127
164.6
3260
93
99.6%
Caenorhabditis elegans
20191
7
2884.4
3285
0
100.0%
Caenorhabditis japonica
29931
2643
8.9
19
6477
78.4%
Caenorhabditis remanei
31436
1404
21.7
135
916
97.1%
Loa loa
14908
873
15.5
35
1379
90.7%
Onchocerca volvulus
12117
135
88.6
3497
153
98.7%
Pristionchus pacificus
25516
27
944.7
3875
9
100.0%
Strongyloides ratti
12464
53
234.4
3596
42
99.7%
Trichinella spiralis
16380
465
29.4
1541
2688
83.6%
Diptera
Genes
Contigs
Average size
(nb genes)
N50 size
(nb genes)
Genes not
in contigs
Coverage
(%)
Aedes aegypti
14718
191
75.0
4983
387
97.4%
Aedes albopictus
17535
3421
4.4
5
2412
86.2%
Anopheles albimanus
12179
25
486.7
2574
11
99.9%
Anopheles arabiensis
13271
198
66.3
426
142
98.9%
Anopheles atroparvus
13717
160
84.1
2931
265
98.1%
Anopheles christyi
10872
2270
3.5
4
2938
73.0%
Anopheles coluzzii Ngousso
12773
112
113.9
236
15
99.9%
Anopheles coluzzii
14464
366
37.4
351
760
94.7%
Anopheles culicifacies
14358
2709
4.2
5
3012
79.0%
Anopheles darlingi
10556
1273
7.6
12
888
91.6%
Anopheles dirus
12924
166
77.0
547
139
98.9%
Anopheles epiroticus
11956
774
15.1
29
277
97.7%
Anopheles farauti
12932
63
204.8
887
30
99.8%
Anopheles funestus
13094
3
4364.7
5541
0
100.0%
Anopheles gambiae
13094
8
1636.8
2950
0
100.0%
Anopheles maculatus
14858
1666
2.2
2
11124
25.1%
Anopheles melas
15367
3508
3.0
3
4978
67.6%
Anopheles merus
13149
308
42.1
115
195
98.5%
Anopheles minimus
12820
78
163.5
899
64
99.5%
Anopheles quadriannulatus
13436
344
38.2
91
306
97.7%
Anopheles sinensis China
19352
542
35.4
105
160
99.2%
Anopheles sinensis
12905
757
15.6
39
1073
91.7%
Anopheles stephensi Indian
11789
269
41.5
117
637
94.6%
Anopheles stephensi
13336
433
30.6
58
69
99.5%
Belgica antarctica
13510
1237
10.2
17
933
93.1%
Culex quinquefasciatus
18965
1456
12.7
25
536
97.2%
Culicoides sonorensis
15612
1993
7.1
11
1386
91.1%
Drosophila ananassae
14365
84
168.3
2703
227
98.4%
Drosophila erecta
13605
29
466.3
2624
82
99.4%
Drosophila grimshawi
13705
217
60.6
1388
561
95.9%
Drosophila melanogaster
13969
9
1551.8
2739
3
100.0%
Drosophila mojavensis
13425
45
294.6
2494
168
98.7%
Drosophila persimilis
16874
247
65.3
483
755
95.5%
Drosophila pseudoobscura pseudoobscura
14574
159
89.3
1363
376
97.4%
Drosophila sechellia
16465
295
53.6
760
660
96.0%
Drosophila simulans
14179
21
668.8
2819
134
99.1%
Drosophila virilis
13620
60
224.9
1860
124
99.1%
Drosophila willistoni
13783
69
196.1
699
253
98.2%
Drosophila yakuba
14824
176
81.8
2694
425
97.1%
Glossina austeni
19720
849
23.0
45
193
99.0%
Glossina brevipalpis
14656
545
26.6
56
143
99.0%
Glossina fuscipes fuscipes
20117
1069
18.6
34
234
98.8%
Glossina morsitans morsitans
12494
1810
6.2
9
1254
90.0%
Glossina pallidipes
19278
739
25.7
61
262
98.6%
Glossina palpalis gambiensis
20162
1120
17.5
32
516
97.4%
Lucilia cuprina
14452
1026
13.4
28
680
95.3%
Lutzomyia longipalpis
10426
1366
7.2
10
581
94.4%
Mayetiola destructor
19927
1015
15.6
120
4139
79.2%
Megaselia scalaris
11461
1658
2.4
2
7513
34.4%
Musca domestica
14402
1699
7.5
12
1606
88.8%
Phlebotomus papatasi
11391
2044
4.4
5
2366
79.2%
Stomoxys calcitrans
14078
1422
9.2
16
1060
92.5%
Teleopsis dalmanni
16570
2846
4.5
6
3775
77.2%
Lepidoptera
Genes
Contigs
Average size
(nb genes)
N50 size
(nb genes)
Genes not
in contigs
Coverage
(%)
Bombyx mori
14623
309
46.6
151
209
98.6%
Danaus plexippus
15128
548
27.0
51
319
97.9%
Heliconius melpomene
12669
1447
8.3
13
675
94.7%
Melitaea cinxia
16629
2812
5.4
7
1358
91.8%
Hymenoptera
Genes
Contigs
Average size
(nb genes)
N50 size
(nb genes)
Genes not
in contigs
Coverage
(%)
Apis mellifera
9935
23
431.2
595
17
99.8%
Atta cephalotes
10491
125
81.4
187
321
96.9%
Bombus impatiens
15896
709
21.8
69
443
97.2%
Bombus terrestris
10581
90
114.2
594
307
97.1%
Solenopsis invicta
14825
816
15.3
59
2326
84.3%
Other Metazoa
Genes
Contigs
Average size
(nb genes)
N50 size
(nb genes)
Genes not
in contigs
Coverage
(%)
Actinia equina
47671
1468
32.5
56
11
100.0%
Acyrthosiphon pisum
36195
2165
14.8
37
4098
88.7%
Adineta vaga
49300
1362
34.9
87
1729
96.5%
Amphimedon queenslandica
43615
4012
9.5
35
5456
87.5%
Anoplophora glabripennis
22253
1775
12.2
22
513
97.7%
Biomphalaria glabrata
25550
3694
5.0
7
7129
72.1%
Branchiostoma lanceolatum
35955
1272
26.2
91
2626
92.7%
Capitella teleta
32175
2431
11.3
27
4652
85.5%
Cimex lectularius
14083
173
81.2
147
38
99.7%
Clytia hemisphaerica
19132
714
26.6
59
166
99.1%
Crassostrea gigas
26089
2182
11.4
21
1132
95.7%
Daphnia magna
26646
1098
16.3
116
8798
67.0%
Daphnia pulex
30590
1193
24.1
157
1786
94.2%
Dendroctonus ponderosae
13088
877
13.7
56
1116
91.5%
Dinothrombium tinctorium
19024
4021
3.5
4
4811
74.7%
Folsomia candida
28732
115
249.7
798
18
99.9%
Helobdella robusta
23432
267
86.1
328
453
98.1%
Hofstenia miamia
22454
1170
18.6
31
695
96.9%
Ixodes scapularis ISE6
20488
3119
5.0
7
4924
76.0%
Ixodes scapularis
19062
1825
10.1
17
594
96.9%
Lepeophtheirus salmonis
13081
1254
9.8
16
849
93.5%
Leptotrombidium deliense
14667
2621
2.8
3
7265
50.5%
Lingula anatina
34105
2387
14.0
26
802
97.6%
Lottia gigantea
23340
577
39.5
161
547
97.7%
Mnemiopsis leidyi
16058
1154
13.4
22
537
96.7%
Nasonia vitripennis
13602
111
122.4
2232
18
99.9%
Nematostella vectensis
24773
1431
15.4
57
2667
89.2%
Octopus bimaculoides
33609
4898
6.2
9
3381
89.9%
Orchesella cincta
20247
2463
7.7
13
1364
93.3%
Pediculus humanus corporis
10785
362
29.4
49
156
98.6%
Rhodnius prolixus
15059
1048
13.1
31
1322
91.2%
Sarcoptes scabiei
10471
1703
5.1
7
1838
82.4%
Schistosoma mansoni
10772
263
40.4
866
156
98.6%
Stegodyphus mimosarum
27135
4829
5.1
7
2286
91.6%
Strigamia maritima
14992
1139
12.6
28
663
95.6%
Strongylocentrotus purpuratus
27447
118
231.6
1137
120
99.6%
Tetranychus urticae
17671
219
79.8
601
193
98.9%
Thelohanellus kitauei
15020
1333
10.4
19
1109
92.6%
Tigriopus californicus
15577
13
1194.5
1310
49
99.7%
Trialeurodes vaporariorum
18273
36
506.2
1479
50
99.7%
Tribolium castaneum
16590
248
65.0
1676
470
97.2%
Trichoplax adhaerens
11520
176
63.2
745
392
96.6%
Varroa destructor
10260
31
329.0
1762
61
99.4%
Zootermopsis nevadensis
14610
973
14.6
28
418
97.1%
Ancestors
Genes
Blocks
Average size
(nb genes)
N50 size
(nb genes)
Genes not
in blocks
Coverage
(%)
Acalyptratae
17461
1848
4.6
7
9031
48.3%
Acari
23237
611
2.1
2
21950
5.5%
Acariformes
14750
368
2.1
2
13977
5.2%
Actiniaria
20966
1855
2.6
2
16212
22.7%
Aculeata
13739
1571
5.5
8
5100
62.9%
Annelida
20300
892
2.2
2
18382
9.4%
Anopheles coluzzii anc
17923
559
26.4
479
3146
82.4%
Anopheles sinensis anc
15132
445
27.5
103
2892
80.9%
Anopheles stephensi anc
13427
187
64.7
247
1324
90.1%
Anopheles
23963
485
28.1
530
10328
56.9%
Apinae
11997
411
23.6
58
2304
80.8%
Apocrita
14575
1873
3.5
4
7978
45.3%
Arachnida
27618
767
2.1
2
26005
5.8%
Arthropoda
51695
1042
2.1
2
49460
4.3%
Bilateria
56484
1124
2.2
2
54053
4.3%
Bombus
12038
163
61.4
234
2029
83.1%
Caenorhabditis
24686
579
25.3
396
10020
59.4%
Calyptratae
19453
1048
10.4
28
8543
56.1%
Cellia
26103
472
32.0
2898
10976
58.0%
Chironomoidea
14320
1220
2.4
2
11425
20.2%
Cimicomorpha
13532
1245
2.6
2
10328
23.7%
Cnidaria
23361
519
2.1
2
22281
4.6%
Crustacea
19269
443
2.1
2
18338
4.8%
Cucujiformia
17756
2100
3.0
3
11373
35.9%
Culicidae
22465
1897
5.1
8
12851
42.8%
Culicinae
16942
1426
7.2
14
6657
60.7%
Culicomorpha
25413
2322
2.7
3
19108
24.8%
Cyclorrhapha
20931
1712
2.6
2
16493
21.2%
Daphnia
16426
1316
5.6
8
9043
44.9%
Deuterostomia
20654
862
2.2
2
18769
9.1%
Diptera
33490
2337
2.6
2
27447
18.0%
Drosophila
18644
475
26.7
282
5947
68.1%
Ecdysozoa
48781
727
2.1
2
47251
3.1%
Entomobryomorpha
14897
1034
2.9
3
11869
20.3%
Eumetazoa
45501
730
2.1
2
43963
3.4%
Gastropoda
20378
1175
2.2
2
17775
12.8%
Glossina
22479
792
18.5
162
7791
65.3%
Hemiptera
24622
1295
2.3
2
21702
11.9%
Hexapoda
39971
1040
2.2
2
37711
5.7%
Holometabola
42495
2614
2.6
2
35746
15.9%
Ixodes scapularis anc
19677
2965
4.4
5
6660
66.2%
Lophotrochozoa
41787
1922
2.3
2
37434
10.4%
Mandibulata
43507
954
2.2
2
41451
4.7%
Metazoa
12385
265
2.1
2
11828
4.5%
Mollusca
28222
1642
2.3
2
24520
13.1%
Muscinae
13793
1313
7.6
13
3844
72.1%
Myrmicinae
11757
621
14.4
34
2801
76.2%
Myzomyia
16402
231
56.6
1165
3323
79.7%
NAME_0
13828
137
90.6
403
1412
89.8%
NAME_1
20732
600
25.2
150
5632
72.8%
NAME_2
16259
317
40.6
446
3399
79.1%
Nematocera
30134
2479
2.7
3
23382
22.4%
Nematoda
13441
102
2.0
2
13235
1.5%
Nemorhina
20930
819
20.1
73
4461
78.7%
Neocellia
18046
303
40.4
164
5806
67.8%
Neomyzomyia
14440
226
55.8
515
1818
87.4%
Neoptera
48028
2307
2.4
2
42413
11.7%
Nymphalidae
17110
851
12.8
34
6208
63.7%
Nyssorhynchus
12691
550
20.0
60
1696
86.6%
Obtectomera
16826
1217
7.3
15
7929
52.9%
Onchocercidae
11064
239
37.8
244
2031
81.6%
Pancrustacea
44677
970
2.1
2
42594
4.7%
Paraneoptera
27505
1616
2.3
2
23740
13.7%
Parasitengona
12191
1033
2.4
2
9726
20.2%
Parasitiformes
13762
429
2.1
2
12863
6.5%
Phlebotominae
12441
1497
2.6
3
8483
31.8%
Podoplea
12469
375
2.1
2
11670
6.4%
Prostigmata
13045
383
2.1
2
12244
6.1%
Protostomia
64334
1332
2.2
2
61458
4.5%
Pyretophorus
20211
386
36.2
662
6251
69.1%
Rhabditida
14580
874
2.3
2
12610
13.5%
Rhabditina
13057
921
2.3
2
10961
16.1%
Schizophora
22828
2065
4.5
6
13614
40.4%
Sophophora
18074
394
33.1
196
5038
72.1%
Spiralia
41979
1132
2.1
2
39549
5.8%
Stegomyia
15246
1245
8.3
17
4935
67.6%
Sternorrhyncha
18376
761
2.2
2
16729
9.0%
gambiae species complex
24775
975
17.2
2429
7987
67.8%
melanogaster group
15835
327
39.8
188
2829
82.1%
melanogaster.subgroup
16268
134
105.9
2751
2074
87.3%
pseudoobscura subgroup
15238
194
68.6
518
1936
87.3%